A poem just to share one, maybe I can even get a job writing them… J
Once you were my baby girl
Bringing great joy into our little world
My beautiful daughter now you give it a whirl
–
A mother you are and on this Mother's Day
It is with great pleasure and pride I say
The gift of being a mother can never be taken away
–
When you were a child a little girl to me
A little Princess in a dress for the world to see
The smile on your face, the hugs and kisses all free
–
As you are now, a most beautiful lady
My daughter for eternity
Happy Mother's Day with love
Me
–
I thought I would share this as the past few days I have had more views from search engines than anywhere else. The searches have all been about mother's day poems for daughter or something along those lines. The most searched posts of the past were also about poetry for a daughter.. An angry daughter. Thanks Google as well as Yahoo and any other search engines as well as the people that stopped by!
  I am in a way moved by these views on my pages as it shows a trend or need for expressing poetic expression with our daughters. Some of the young Ladies I know and those not so young either like poetry and artistic expression. My sons girlfriend reads at a local coffee shop where they live, the coffee shop features live poetry and short story readings on Saturday Nights. As these young ladies become mothers we know the heartfelt sentiment poetically expressed will be cherished forever.
I wanted to share an update and would like to offer the opportunity for those that would like to purchase a framed and beautifully expressed version of this poem. I have several options as far as frames listed on my ETSY shop Artisticlyxpressed if you would like to share a gift with your lovely daughters or E mail me at smplman1215@yahoo.com! There is space at the bottom to sign it and add that personal touch!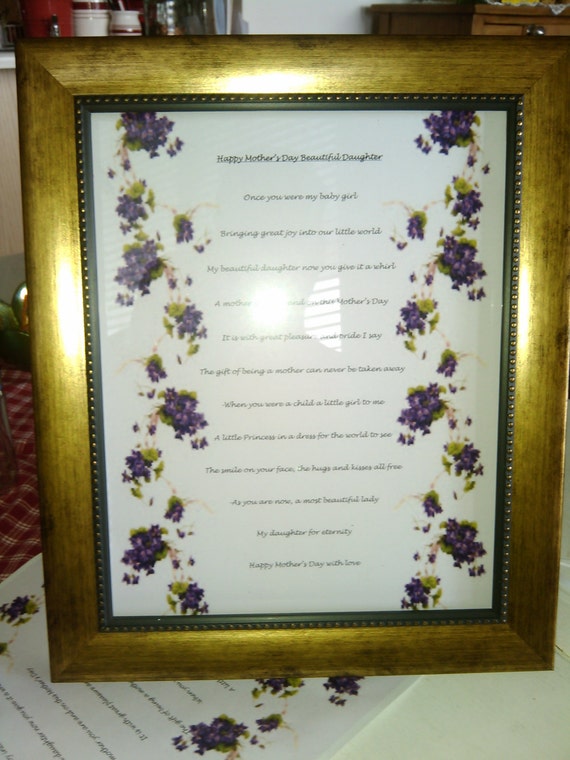 I thank you for allowing me to share a thought or two and a Poem for the many daughters that are going to be mothers the first time this year and the many daughters that are moms which is all of you moms! I hope that your shopping is all fun and from the heart. Please share a smile share some love and help make our world a better place for all we share it with. J